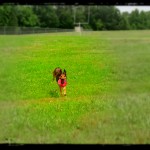 As I sit down to enjoy a cookout in Midtown Memphis, TN to celebrate our country's independence I start to reminisce about what freedom means not only for me but for my dogs. I'm not talking about some sort of struggle they went through from being wolves to domesticated dogs, although that is a fascinating topic. I'm referring to the freedom my dogs enjoy without having to be tethered to a leash all the time.
One of my favorite things to see is my dogs being dogs. It's is truly an amazing spectacle to see dogs running full speed and playing in an area that is not enclosed by a fence. One of my favorite off leash activities to do with my dogs is to explore trails. As I walk down the path they venture out into the lightly wooded areas trying to discover what their noses are picking up. If I see somebody approaching I call them back and either wait for the person to pass or we walk by nicely. None of this freedom would be possible though if I didn't have full confidence in their off leash obedience training and ability to come when called.
What Off Leash Freedom Can Mean for Your Pup and You:
– More Adventures! When a dog is trained in off leash obedience it gives them the skills to behave and listen around distractions. Which in turn gives the owner more confidence in their dog and ultimately leads to the dog getting to do more walks, car rides, park visits, etc.
– A Happier You! After years of training dogs for people there is always one constant no matter the breed, age, or behavioral issues. When your dog can be trusted to behave nicely in nearly every situation, the stress level tends to fall. For instance, the owners no longer have to worry about their dog misbehaving as somebody approaches while walking a dog. Or worry about their pup trying to escape out the front door each time it is opened. The owners of a dog trained in off leash obedience generally stop stressing out about how to corral their dog. Instead, their pup becomes a valued member of the family and truly enhances their life.
– A Healthier You! After I train somebody's dog I like to check back in on them from time to time and make sure everything is going well. From what I'm told the owner is not only happier due to less stress but generally healthier since they are able to take their dog on more relaxing walks than ever before. Off leash dog training doesn't just mean your dog will learn to listen without a leash. Your dog will also be taught how to walk nicely and follow commands while on leash.
– A Healthier Dog! I haven't done any scientific research to back this up but generally when I check in a few months after training, the dogs tend to look healthier. I think this goes hand in hand with the section above. When an owner is not afraid to go out in public with their dog, it is easier for both the dog and owner get more exercise.
– A Happier Dog! When a dog can't be trusted to behave when outside of the home, then inside the home is typically where they spend their time. The dogs still enjoy being around their family but they miss out on all the adventures the outside world has to offer. Imagine if you had to remain in your home nearly all day every day! Wouldn't you get a little bored and go stir crazy? There is a remedy though; going on walks or to the park is a great way for your dog to experience the outside world. However, without obedience training this can be a difficult and stressful task.
If you would like to learn more about how off leash obedience training can help your dog, then please Contact Dog Obedience College of Memphis at (901)-310-5826 or info@DogObedienceCollege.com.