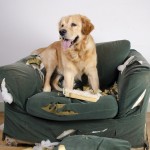 As a dog trainer in Memphis, I often forget what life is like with an untrained dog or rather I should say semi-untrained dog. I say semi-untrained to described a dog that does what you want for the most part and there are no behaviors that are driving you too crazy.
That is what life was like before my training days with my Pit/Ridgeback mix Tilly.  When I reminisce about her I tend to think about how perfect she was and all the adventures we had together.  Then, my dog trainer side kicks in and I realize how many obedience and behavioral issues she actually had. With a little work those issues could have been fixed and we probably would have had a lot more adventures but we were limited by bad behavior.
Although during the time I didn't see them as bad behaviors or issues in anyway.  Instead, I viewed them as part of her personality and would adjust my life accordingly to fit her.  In doing so I would always rationalize her behavior in some way or another. For instance, I would say how I liked her pulling on a leash because it helped me get through long runs.  Now, I'm not a marathon runner, and in reality most of the exercise she got was in the form of walks.  So really that pulling theory held no weight.
If I would have realized back then what a little training could do, we could have confidentiality gone out in public around large groups of people, been around more dogs, had guests over, not have a sore arm after walks, not have scrapped up legs due to claw marks, and so much more. It is actually amazing how great life can be for you and your dog when you know your pup will behave anywhere!
The following is a short list of things I've heard people say or describe about their dogs behavior that they some how rationalize and live with. And yes, I have said one or two of these statements in the distant past.  If any of these sound familiar to you, then please know that life can be so much better for you and your dog with a little training help.
–  What should be a leisurely walk through the woods with your dog turns into a brisk walk or jog because your dog is pulling to chase squirrels.
– If you can't have company over because your dog scares them or is such an attention addict that he/she won't leave them alone.  It's very possible to have a well mannered dog when you have guests.  Sorry guys for blowing the whole excuse for not having a dinner party.
–   When you open a door to the outside you automatically go into dance mode in an effort to keep your dog inside.  With a little training, all that shuffling and hip swinging won't be necessary, and your neighbor may not laugh at your moves anymore.
– If your dog requires a device wrapped around their face in order for you to walk him/her.  They may somewhat stop the pulling but it's really only a Bandaid solution.  Besides, I've never seen a dog excited about wearing one of those on a walk.
– "My dog will do what I want when I have a treat in my hand inside my home".  Unless you are a hermit, then this arrangement doesn't do you a whole lot of good when you're out in the world.  And yes, it is possible to have your dog following your commands without food in your hand and around distractions.
– On that note, it is also possible to get your dog to come back inside without grabbing their food dish or treat bag.
– "My dog knows a sit, watch! Sit, sit, sit, Fido, Fido over here, sit, sit,sit, good boy!" When you have to repeat a command so many times that your dog may actually just comply because his/her legs are tired and needs to sit for a break from standing.
– "Oh I sleep on the couch because Fido has claimed the bed but I don't mind."  Really?
– If you give your dog table scraps so he/she leaves you alone at dinner time.  I hope most of you just thought about how that doesn't solve the problem but in fact makes it much worse.
– Or along the same lines as the one above, you've said, "we just put Fido outside during meals so we can eat in peace." It is entirely possible to have your dog out and around you during meals without being a bother.
– "Oh we have a baby gate to keep the dogs apart at all times, they are great when separated!" Imagine a life without baby gates, it's possible!
Basically, anytime you notice yourself altering your life because of your dog's behavior, then it's time to call an experienced dog trainer. Your pup should fit into and enhance your life, not control it. And don't worry, your dog will still have that great personality but it will be paired with better manners!
Memphis Dog Training
For more information on how Dog Obedience College of Memphis can help your pup out please fill out the Contact Form, email info@dogobediencecollege.com, or call(901)310-5826.