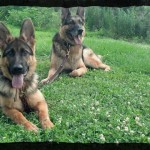 Ah tis' the season, or at least it is in the Memphis area, where clumps of fur start falling off my German Shepherds and my vacuum once again has to prove itself.  As the weather starts to get warmer, the fur starts to fall, and fall everywhere! There are a few things you can do to help reduce the impact of all that fur on your home and life. And although it takes a little more time up front, it pays off in the following months.
– Have your dog groomed.  Even if you have never had your dog in for grooming, give it a try.  You'll find that your dog will still shed but the amount of fur dropping on a daily basis is greatly reduced, which in a multiple dog household like mine is well worth it.  Usually your groomer will also be able to give you more breed specific tips on how to make life easier with your dog's coat.
– Brush away!  During the Spring and Fall I have a ritual with my dogs of putting on a long show or movie, grabbing a large trash bag, arming myself with a Furminator, and brushing away. I know it doesn't sound like a fun night at all. But typically I can fill a paper bag in one sitting with the amount of fur I get off one of my Shepherds.  That's fur that would have ended up all over my home in Memphis and would have taken much more time to vacuum up. Some brushes work better than others, I prefer ones that attack your dog's undercoat as opposed to just taking some off the top.
– Give your dog a bath.  Even if your dog doesn't have that lovely smell that usually tells you it's time, go ahead and get that tub and raincoat ready.  Once you have your dog pretty soaked, start running your hands through their fur and you will notice clumps of hair starting to stick to your hand.  If you have brushed like crazy, then this could be an alternative option, which I'm sure your dog's skin will appreciate.
 Good luck fighting the fur frenzy!
For more advice from a dog trainer please fill out the Contact Form, email info@dogobediencecollege.com, or call (901)310-5826.