Dog Name: Bear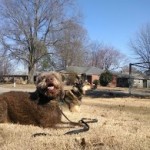 Breed: Labradoodle
Age: 2
Hometown: Memphis, TN
Training Program: Advanced Off Leash
Training "Tail": Bear's owner contacted Dog Obedience College after adopting him about six months prior. Bear was a very sweet boy but he was showing aggression towards strangers in public, on walks, and people coming in the house. It had gotten to the point where she wasn't comfortable taking Bear for walks out of fear of him pulling and barking at oncoming people, dogs, and anything else that moved. She wasn't able to let people come up and pet him no matter how badly they wanted to.
Bear's owner decided to enroll him into the Advanced Off Leash In-Home program. Through the program Bear became comfortable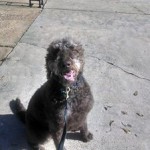 having somebody come to the his house daily and even started to get excited when the trainer approached the door. Outside of the house, Bear learned to focus on his obedience instead of trying to scare away everything coming towards him. The obedience training resulted in Bear growing a lot of confidence as well as learning how to properly behave in public. Bear's owner is now able to take him to  the pet store, on walks, and to the off leash dog park at Shelby Farms and has full confidence in him. Bear's owner is now even happy to have people come up and pet him!
Here is a look at a few of the things Bear learned while in training:
If you are having issues with your dog and would like help, then please get in touch with us by filling out the Contact Form, calling 901-310-5826, or emailing info@DogObedienceCollege.com.