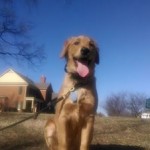 Name: Natalie
Breed: Golden Retriever
Age: 5 months
Hometown: Collierville, TN
Training Program: Advanced Off Leash
Training "Tail": Natalie was proving to be a true Golden Retriever puppy by displaying her intelligence and energy at every chance she would get. Natalie's owners soon realized that her intelligence and energy is cute now but could cause some issues later on when she is full grown. Instead of waiting until Natalie developed bad habits on her own, they enrolled Natalie in the Advanced Off Leash In-Home program.
Natalie's obedience training taught her to harness her intelligence and energy and make good decisions instead of resorting to troublesome behavior. Natalie learned to walk nicely both on and off leash, to sit and wait for attention instead of jumping, how to utilize her place command, how to interact with new people, how to behave around other dogs, and much more. Her owners are now on their way to having a well behaved model citizen!
Here is a look at the obedience Natalie learned while in training:
Collierville Dog Training Help
Having issues with your dog? Dog Obedience College can help! Contact us for information on how quality obedience training can help your dog become a well behaved family member. 901-310-5826, info@DogObedienceCollege.com, or fill out the Contact Form.