Dog's Name: Pepper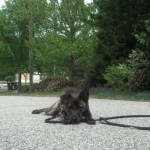 Breed: Pit Bull mix
Training Program: Advanced Obedience
Pepper's Training "Tail": Pepper is a young energetic pup with lots of intelligence. The combination of energy and brains can be a troubling thing without any rules. Despite her daily walks Pepper would often find destructive ways to use up the remainder of her energy. After a few expensive items were destroyed Pepper's owner knew something had to be done and enrolled her into the Advanced Obedience program.
While in training Pepper learned to use her intelligence in positive ways. And Pepper's owner learned how to use her pup's new obedience skills to wear her out both mentally and physically.
Take a look at this training video to see a few of the obedience skills Pepper learned:
For more information on how you can have your dog trained to be reliable off leash please fill out the Contact Form, email us at info@DogObedienceCollege.com, or call 901-310-5826.