Dog's Name: Sam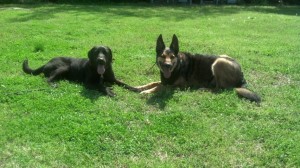 Breed: Labrador Retriever
Training Program: Advanced Obedience
Sam's Training "Tail": Sam is a Lab puppy that is little over a year old. And like so many puppies, Sam has a tremendous love of life. So much in fact that he doesn't know how to contain his excitement. Sam would show his love and excitement by pulling his owner down the street and jumping on him every chance he got.
Sam's owner enrolled him in the Advanced Obedience program. While taking obedience classes Sam learned how to control his excitement and interact with the world in a positive manner.
Sam now shows his excitement for walks by strolling happily next to his owner instead of pulling. And instead of getting attention by jumping, Sam learned that sitting politely gets him all the attention he wants.
Take a look at this short video what Sam learned while in training:
For more information on how you can have your dog trained to be reliable off leash please fill out the Contact Form, email us at info@DogObedienceCollege.com, or call 901-310-5826.