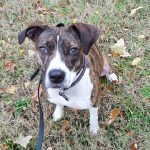 Dog's Name: Yuli
Breed: Mix
Training Program: On Campus (board and train) Advanced Off Leash
Training "Tail": Yuli is a high energy dog that was enrolled in the On Campus board and train program to learn reliable obedience in order to become a well behaved therapy service dog.
Here's what the owner had to say shortly after Yuli's graduation:
I just wanted to let you know that Harper (Yuli's owner) came to town this weekend to pick up

Yuli

and take her back to school.  I didn't sleep much Saturday night as I was so worried that

Yuli

would be unpredictable at the airport.  I worried for no reason at all.  When we got to the ticket counter, Harper told

Yuli

to sit and down and she sat down.  She followed directions perfectly did not pay attention to anyone around.  She didn't move.  When they went through security as Harper walked,

Yuli

walked and when Harper stopped,

Yuli

immediately sat down.  Harper had to take the ecollar off when they got to the security conveyor belt and

Yuli

still followed Harper.  Harper had to take her leash off and they made

Yuli

walk through the metal detector alone.  

Yuli

walked through and Harper said "DOWN

YULI

," and she didn't move until Harper went through the metal detector and released her and put her leash back on.

I know

Yuli

has a lot more training to go, as does Harper, but you put them on the right track and got them started to what I hope will be a better relationship for them both.  I CAN'T THANK YOU ENOUGH!! – Shelley (mother of owner Yuli's owner)
Take a look at how Yuli turned out:
Want a well behaved dog? Dog Obedience College can help!