Dog: Zooey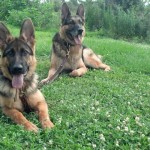 Breed: German Shepherd
Age: 5 months
Training Program: Advanced Obedience
Training "Tail": Zooey is a young German Shepherd puppy with a lot of energy and brains. As a pup Zooey loved to pull on walks, jump on everybody, and nibble on her owners arms and legs. Her owners are new to dog ownership and quickly realized the difficulties they would face with an untrained fully grown German Shepherd.
Result of Obedience Training: Zooey learned manners and how to interact with people in a positive  way. She no longer nibbles or jumps on her owners and walking is a joy instead of a battle now.
Take a look at Zooey's obedience video to see how far she has come:
Memphis Dog Training
For more information on how you can have your puppy or full grown dog to have manners and reliable on and off leash obedience please Contact Dog Obedience College of Memphis at 901-310-5826 or email info@DogObedienceCollege.com.