Dog: Polly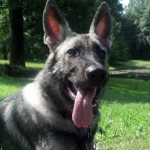 Breed: German Shepherd
Hometown: Arlington, TN
Age: 5  Months
Training Program: Advanced Off Leash Obedience – In Home
Training "Tail": Polly's owner got her when she was just a couple of months old. They were not new to dog ownership but she was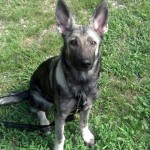 going to be by far the largest dog they have ever owned. Polly's owners recognized early on how smart and energetic she was and they knew without training that could lead to an out of control dog when she was full grown. Polly's owners envisioned a confident dog that could be off leash on their property without worry, a dog that behaved inside the house, a pup they could take for relaxing walks and not have her pull or be afraid of cars, and have her not fear meeting other dogs.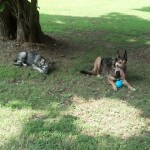 When Polly turned 4 months old they enrolled her in the Advanced Off Leash Obedience In-Home program with Dog Obedience College of Memphis. During training Polly's confidence began to rapidly grow due to the motivational teaching style that Dog Obedience College of Memphis uses in training. Polly soon got to the point where she could loose leash walk passed on coming dogs, even barking ones, meet new dogs, and even happily play with other dogs.  Polly's parents are now able to have her off leash with confidence, take her for relaxing walks, and enjoy her being out of her crate when inside.
Take a look at what Polly learned during her dog training course:
Help Your Dog be Reliable, Well Behaved, and Confident
Dog Obedience College can help teach your dog how to behave in public, overcome fears, and be reliable off leash. To enroll please fill out the Contact Form, email info@DogObedienceCollege.com, or call 901-310-5826.
Dog Training in  Greater Memphis, TN
Dog Obedience College provides dog training and behavioral problem solving services to Memphis, Germantown, Cordova, Collierville, Arlington, and surrounding ares of Tennessee, Mississippi, and Arkansas.