Dog's Name: Spunky Jack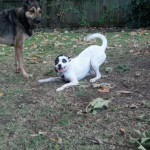 Breed: Jack Russell Mix
Age: 8 Months
Hometown: Memphis, TN
Training Program: Advanced Off Leash Board and Train
Training "Tail": Prior to Spunky Jack being adopted by his owners he was living a life on his own out on the streets when a local Memphis dog rescue found him. At the time of his adoption Jack was a very sweet energetic pup that loved attention. At times his love for attention was a bit overwhelming due to his jumping and other attention getting behaviors. During his time on his own Spunky Jack also developed a shy and fearful side, which resulted in a lot of barking at noises and being scared of larger dogs.
During Spunky Jack's training he learned  how to focus all his energy and love for attention into positive outlets. He sits and waits for attention instead of jumping up to get it, is much calmer inside the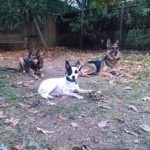 house, and has become great at cuddling when invited to do so. Jack's obedience training also helped to raise his confidence greatly! Before training, out of fear he would bark at every little noise and was very scared of larger dogs. Now he only barks at the noises his owners want him to and then he stops when they ask. And as for larger dogs, well he is no longer scared of them and in fact has made a few good doggie friends in the process.
Take a look at a few of the obedience skills Spunky Jack learned while in dog training school: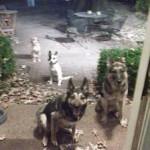 If you are interested in having your pup learn how to be an obedient well behaved member of your family, then please contact a dog trainer at Dog Obedience College of Memphis by filling out the Contact Form, calling 901-310-5826, or emailing info@DogObedienceCollege.com.