Dog's Name: Tucker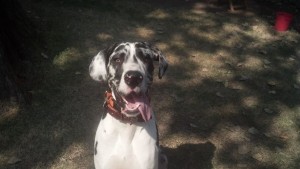 Breed: Great Dane
Age: 10 months
Hometown: Collierville, Tennessee
Training Program: Advanced Off Leash Board and Train
Training "Tail": Being a Great Dane puppy Tucker was rapidly growing but had no idea how big he actually was. Like any puppy, Tucker was acting like a puppy but due to his size he was starting to cause issues. Tucker would pull on walks, steal food off tables, run the kids over, and growl at guests and strangers.
Tucker went through the  intensive Advanced Obedience  Board and Train program. While there he learned reliable off leash obedience and how to fall back on his training in various situations where his size would previously get him into trouble. Take a look at what the owner had to say.
From the Owner:  "Tucker has come so far. What a difference 5 weeks of intense training makes. He is such a sweet loving pup. His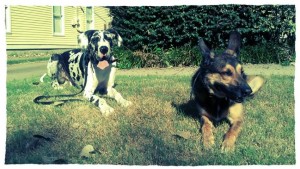 training has payed off. (Thank you Drew, at Dog Obedience College) We still have some fine tuning to do for sure, but he is still just 11 months old. Our Tucker was stealing the kids food, knocking the kids over, getting into mischief, poop eating, and fiercely barking and charging neighbors. Our house had more baby gates than when we had actual babies. We are now baby gate FREE! He respects the kids space, he knows not to steal food, he leaves countertops alone, and he goes to his "place" on command and stays there until invited to leave. We can have him off leash in our yard, and at the park with more confidence. We are really proud of all his hard work. I can not wait to see how he is at age 2 when he reaches physical and mental maturity!"
Dog Training Video of Tucker
Greater Memphis Dog Training
For more information on how Dog Obedience College of Memphis can help your pup please Contact Us at 901-310-5826 or info@DogObedienceCollege.com.