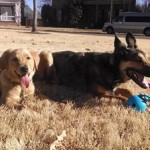 As I make my way around Memphis to various dog training appointments I have begun to notice a lot of puppies bouncing around yards and weaving down sidewalks. This is the time of year when Christmas puppies have started to get big enough to begin exploring the world around them. With it, as a dog trainer, I always start to hear an important question, "… at what age should I start my dog in training?". The quick answer, right now!
Dogs at any age are constantly learning regardless if you are constantly teaching, especially the younger ones. This means the longer you wait to start showing your pup the proper way to behave the more bad habits your dog will have a chance to pick up. Bad habits form when a dog uses trial and error to figure something out. For instance, when a dog wants attention he/she will try a number of things until one of them works. Take jumping for example, every time your dog jumps on a person, that person squirms, pushes the dog away, and usually says something to the dog. In the dog's head, even though it was negative attention, it was still attention and that's better than no attention. In this situation your dog just learned to get attention by jumping.
As long as your dog has had all his/her shots, I always recommend getting your dog started with formal training as soon as
possible. As for puppies that haven't had all their shots yet, try starting with a foundation of rewarding good behavior and ignoring behavior you don't want to see again.
Help with Dog Training
This can be a very beneficial start to training until your dog is old enough to begin obedience school. If you have questions about when to start your dog in training or would like to sign your pup up, then please feel free to contact Dog Obedience College of Memphis by filling out the Contact Form, calling 901-310-5826, or emailing info@DogObedienceCollege.com.